Festival of Trees Presents Check to DWI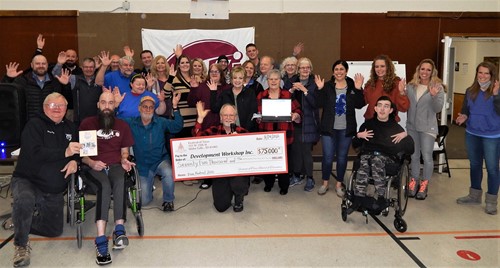 Last Month the FOT Board Member Mike O'Bleness along with FOT Board Chair Kathie Hendrix and Board members of the Festival of Trees presented a check from the proceeds of the 2021 event to Development Workshop Inc. in the amount of $75,000.  Joining in the celebration were the DWI Client Association officers and members, DWI Staff,  members of the DWI Board of Directors and Community Organizations that will benefit from grants that were made available through the FOT proceeds.  
Some of these funds are to provide new and upgraded equipment to support Manufacturing and give more individuals access to vocational training in a variety of jobs and tasks.  Community Organizations that share DWI's mission of assisting those who may have a disability or who are disadvantaged  included; Champ's Heart, Field of Angels, Bikes for Kids, Camp Hayden, Eastern Idaho Down Syndrome Family Connect and Explorer Post 559.
Festival of Trees celebrated (in person last year) its 47th year in the community.  We look forward to seeing everyone at the 2022 Festival of Trees event in November.