Ducks Wash Ashore at Development Workshop Inc.
Updated August 12, 2021
The Ducks are ready to race, Client workers are thrilled to have prepared the 19,000 ducks for the race on Saturday.  After the ducks were put in their holding bin,  Clients took time to celebrate the completion of the work with pictures with the ducks.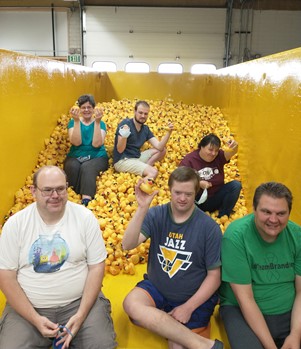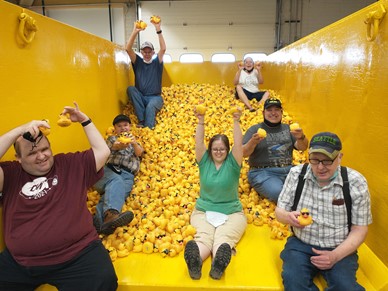 Client workers at DWI have begun the weeks long process of preparing the 19,000 ducks for their big race coming up on Saturday August 14th.  This will be the 30th Annual Great Snake River Greenbelt Duck Race which is sponsored by the Rotary Club of Idaho Falls.  DWI has been prepping the ducks for over 20 of those years.  Local News 8  came by earlier in the week to check on the progress and do some interviews with those working on the ducks.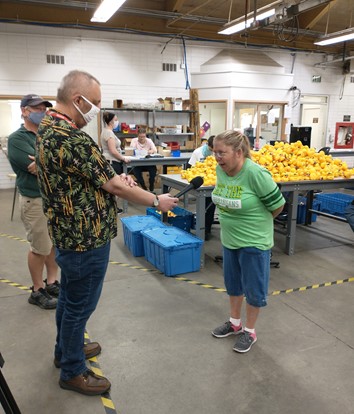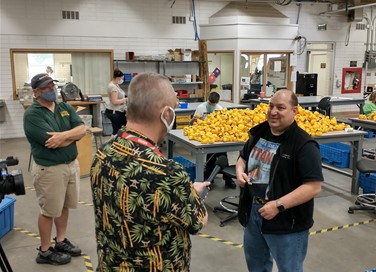 Rotary Representative and former DWI CEO Mike O' Bleness brought by the Grand Prize and also spoke with the media and the DWI team.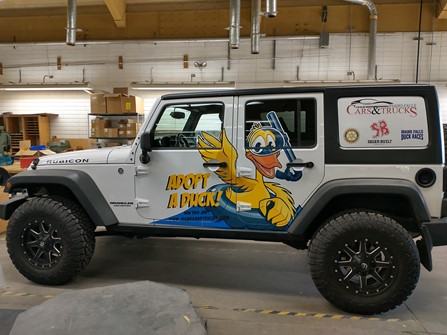 The duck preparation is a fun deviation for the Assembly and Packaging team from their daily work, which includes assembling tape dispensers and flashlights to putting together Highway tool kits and other packaging projects for Government and Commercial contracts.