2020 Festival of Trees Donation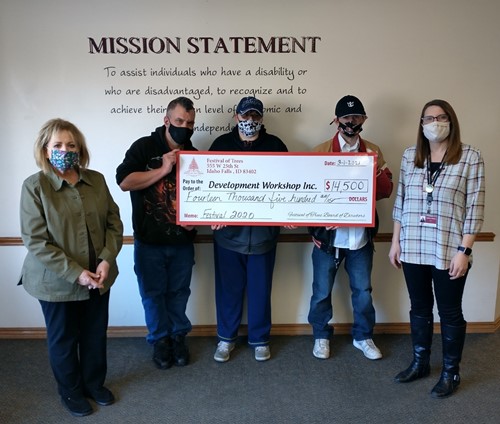 Festival of Trees Chair Kathie Hendrix was pleased to present a donation check to DWI President/CEO McKayla Matlack and Members of the DWI Client Association in the amount of $14,500.  The donation grant from the proceeds from the 46th annual Festival of Trees (but very first online) event will go to program and equipment needs. 
Program support will allow DWI to purchase Community Access Memberships to many attractions in the area, such as the Aquarium, the Zoo and the Museum of Idaho.  These memberships are used to support activities that promote education and integration.
  The funds also will upgrade the tools used in the First Aid/CPR training and certification of the staff.  In addition, needed equipment will be purchased to support the expansion of the Sewing Department capabilities to provide additional vocational training and paid work opportunities to clients and employees.  
McKayla wishes to thank all the volunteers, who put in endless hours to stage this event and have made it a success.
  This year's Festival of Trees in scheduled for November 15-19, 2021