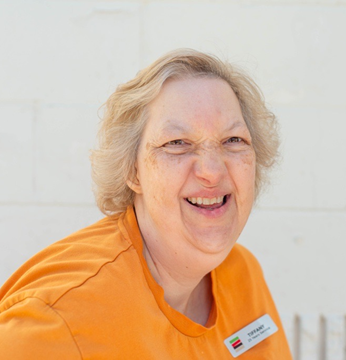 Tiffany is a client in our Rexburg location who is also supported in her job by DWI.  Earlier this year, Tiffany celebrated 25 years of working for Burger King.  This is a great milestone for anyone in the workforce to be working for one company, and Tiffany is happy and proud to be able to be a part of the team at Burger King.   She actually began her career at the Burger King in Idaho Falls and then moved to Rexburg location about 15 years ago.  Her favorite meal is the chicken nuggets or the chicken sandwich.  Tiffany says that "she loves her manager and that she has a great team."
Maia, her manager, "loves Tiffany and feels that she is a valuable member of the team at Burger King."  She described how Tiffany keeps the Front of House bussed and clean during the lunch rush hour and that that she is social with the guests.  When she isn't busy at Burger King, at times, she will go next door to the Subway to help clean up there as well. (Same Owner) She also cited Tiffany's dependability.  Before Tiffany leaves, she will always check with Maia to see if there is anything else that needs to be done.
Kaleb, her current job coach says "Over the past 25 years, Tiffany has developed the independence to adapt with changes at work and communication with her supervisors.  I anticipate Tiffany graduating from supported employment within the year."
Tiffany explained that she learned that "I need to advocate for myself."  
Congratulations Tiffany!