At all levels of the product development and delivery pipeline, you must consider the general user experience of an audience engaging with your goods. This can involve how they might relate to your branding, interface with your controls, and yes, open your packaging.
Packaging is an essential component to get right, because it will not only determine the condition and care by which your products arrive to customers, but how easily they can unlock, understand, and work with their purchase.
However, not all firms—especially smaller brands—are able to cultivate in-house packaging solutions. They may not have the operational budget to build this from scratch, nor the labor, room, or resources to keep it consistent.
For that reason, outsourcing your packaging to companies like DWI can be fruitful. In this post, we'll go over the structure and benefits of such an outsourcing effort:
What Packaging Options Are There?
There are several packaging methods you can choose from, depending on the size, type, and storage needs of your product.
Bubbler Packer Machines
Bubbler packer machines are specialized tools used to vacuum seal products. As the name implies, all air is removed from the packaging and sealed in plastic materials. The types of plastics include polyethylene, nylon, and polypropylene depending on the kind of product packaged.
They work by placing the product and its associated packaging into water to be sealed, removing all air bubbles and pockets. This dense packaging can protect against damage, and also the growth of mold and bacteria. As such, it's highly effective for the storage and transport of electronic items with sensitive components that cannot be exposed to variable conditions.
Bag Sealing Machines
Bag sealing machines seal bags and pouches tight, by using heat or pressure, or both to close them. Thanks to how quick and simple the sealing process is, it can be implemented at scale to seal bags containing many distinct components. For example, this might include women's US Air Force neck tags, flagstaffs, and combs for those looking to transport essential possessions from one place to another, or for procurement departments to easily transmit inventory that reflects the standards of their enterprise in a similar fashion.
Bag sealing machines can offer increased efficiency thanks to the automated process offered, and as many items can be stored safely in bags, this process is versatile and cost-effective, too. Moreover, your bags can be customized to your own branding and taste, and then shipped to your outsourced packing provider.
Shrink Wrappers
Shrink-wrapping packaging is used to seal products with a shrink-fitted wrap, which provides a tight and effective seal around the product. It's more effective for larger products that might not fit into a regular bag or water bath for vacuum sealing. Compared to bag sealing and bubbler packaging, it can also offer more durability, which can be ideal if you're shipping products worldwide.
Moreover, shrink wrapping, like sealing, can showcase easily-identifiable tamper protections. In other words, if the shrink wrap has been compromised, you can tell the product may have been tampered with. 
Shrink wrappers can be used for a range of products of any size, a good example being toolbox trays that need to be protected during transportation—keeping them safe from dirt and moisture, and making their further boxing and transportation easier to handle.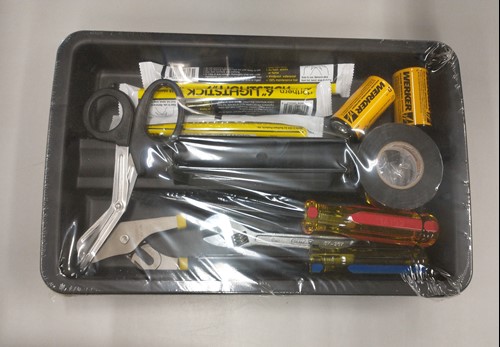 What Are the Benefits of Outsourcing Packaging Services?
It's not just a lack of personal resources that can lead to you eschewing an in-house packaging solution, and instead opting for an outsourced provider. After all, good packaging should be uniform, automated, reliable, and convenient. Here's why using outsourced providers like DWI is a good idea.
Convenience
As a business, you have many core specialisms and goals to work on. As you invest all of your energy and funding into refining your products, innovating new ideas, and establishing the reliability of your brand, you can't allow the little things to fail you.
Using a specialized service geared to help you scale while serving as a foundational component of your logistics effort makes a big difference. It's easy to justify outsourcing vital elements of your brand such as its managed IT services, but often, it's the smaller, repeatable outcomes that require most attention—packaging serving as the perfect example.
In other words, outsourced packaging is reliable, convenient, and uniform. Just what your customers desire.
In-House Production & Care
With in-house specialist providers of varied packaging services, you can enjoy reduced capital investment in establishing every provision of your company yourself. The tools are here ready to go, can scale with you, and includes expertise, all at a reasonable price.
This enhances your production efficiency and the standards your company will stand by. Moreover, our intensive quality control efforts ensure that our productivity is reviewed at every stage, ensuring no misfires or packaging errors lead to damage or disrepair. Our guarantees allow you to rest easy knowing only the best packaging is accepted.
On top of this, our methods are geared to be as sustainable as possible, achievable as a brand dedicated to optimizing our processes over years. This can be hard to integrate into your own firm without the right suppliers, efficiency-focused processes, and time to evaluate the best outcome. We also operate at-scale, allowing us to pass the savings onto you.
Use DWI for All Your Packaging Needs Today
DWI is specialized, highly-adaptable packaging providers able to work with a range of firms to deliver the first step in their logistics pipeline. By establishing an exact process you can rely on, we make sure your products are contained and preserved in the cleanest, most durable form.
Through our community rehabilitation services and wise set of business solutions, we have experience dealing with a range of organizations and enterprises, all with diverse needs.
Our friendly team would love to speak with you. Please visit our website or use our contact form to get in touch. Together, we can help you or your business with professional packing needs.